Every year we get a few movies (sometimes, more than a few), that fail to live up to expectations, despite wonderful origins. The cast and director are well known and respected by the public, but the material just fails to connect with viewers. Such is the case with Where'd You Go, Bernadette. Based on Maria Semple's best-selling novel, the film directed by Richard Linklater (Boyhood) and starring Cate Blanchett, Billy Crudup and Kirsten Wiig failed to ignite the box office, earning only $9.9 million against a budget of $18 million.
Now a forty-something agoraphobic, Bernadette Fox (Blanchett) was once a rising star in the world of architecture. However, after one devastating professional setback she stopped working, instead moving into an old Seattle mansion badly in need of repairs. After four miscarriages, she gave birth to daughter Bee (Emma Nelson) who became her reason for Living. Bernadette's Microsoft software engineer husband Elgin, (Crudup) spends as little time at home as possible. Social or domestic confrontations cause Bernadette immeasurable stress. Her most common clashes are anything requiring her to interact and keep up with the parents at the hoity-toity private school Bee attends. That judgy bunch is led by her next-door neighbor Audrey (Wiig) and her minion Soo-Lin (Zoe Chao), who happens to work with Elgin.
When Bee gets straight A's on her report card and wants to celebrate with a trip to Antarctica, Bernadette agrees to go, much to the surprise of Elgin, who doubts her psyche can stand the stress of the trip. As the date approaches, she becomes increasingly more anxious and Elgin consults a psychiatrist for advice on how to help his wife. This only serves to spook her and Bernadette disappears. Now it's up to Elgin and Bee to find her.
The movie is built around Blanchett. On paper, it should be a winner. Bernadette has has several quirks and personality traits to grab onto. However, Blanchett's mannered performance only exposes Bernadette as a rather unlikable character for the first half of the film; so much so, you'll wonder what purpose there is in giving this woman a spotlight at all. Her day-to-day life isn't really that interesting. Cate Blanchett is a fine actress, but Bernadette is reminiscent of her Oscar winning turn in Blue Jasmine, a flighty woman unable to cope with the real world.
Richard Linklater is a talented guy, but this isn't among his best films. Despite a talented cast, Where'd You Go, Bernadette fails to connect on any level. Saddled with an occasionally awkward narrative and an mostly unlikable title character, Where'd You Go, Bernadette is a movie easily forgotten.
Presented in the 1.85:1 aspect ratio, Fox has provided a solid 1080p presentation. The image is sharp, with only the slightest softness cropping up during some interiors. There were no print flaws to mar the proceedings. Colors appear vibrant throughout and blacks were dark and deep. Shadows demonstrated nice smoothness.
The DTS-HD MA 5.1 soundtrack mix expands well throughout the soundstage. Travel segments added a bit of immersiveness, as did other environmental information. The score is used in an engaging manner and dialogue, is clean, clear and concise. This makes for a fine audio experience.
English and Spanish subtitles are included.
The following extras are available:
Bringing Bernadette to Life (HD, 14:47) Remarks from director Richard Linklater, author Maria Semple, and actors Cate Blanchett, Billy Crudup, Kristen Wiig, and Emma Nelson regarding the novel, characters, adaptation, filming, etc. Really a standard EPK.
Who Is Bernadette? (HD, 4:57) Linklater, Blanchett, Crudup and Nelson offer some quick thoughts on the lead character.
Gallery (HD) 24 photos from the film.
Trailer & Previews
Digital Code
Where'd You Go, Bernadette (2019)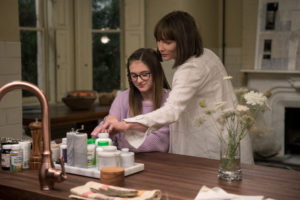 Movie title: Where'd You Go, Bernadette
Country: USA
Duration: 104 min.
Director(s): Richard Linklater
Actor(s): Cate Blanchett, Kristen Wiig , Billy Crudup , Judy Greer , Troian Bellisario , Laurence Fishburne
Genre: Comedy, Drama, Mystery
Movie

Video

Audio

Extras