[amazon_link asins='B01MRA563W' template='ProductAd' store='moviegazetteo-20′ marketplace='US' link_id='f97317b0-1802-11e7-91bf-49520dc3cf9e'] Santa Barbara, California, 1979. Dorothea (Annette Bening) is a single mom in her mid-fifties doing her best to raise her fifteen-year old son Jamie (Lucas Jade Zumann). Home is a big, old, construction zone of a house, they share with a couple of boarders–handyman William (Billy Crudup and punk rocker Abbie (Great Gerwig)–and Dorothea regularly throws makeshift dinner parties for friends (or anyone else she happens to run into that day). Jamie's friend Julie (Elle Fanning), drops by regularly to escape her own chaotic family life. Jamie is hopelessly on love with Julie, but she is happy to keep their relationship just the way it is.
Having grown up during the depression, Dorothea finds herself confused by the cultural changes since her own childhood ("They know they're not good, right?" she asks when she hears a song by Black Flag). Realizing there's no man in his life with whom Jamie can connect–William is far too earthy–Dorothea enlists Julie and Abbie to guide her son toward manhood.
Though Julie is only a couple of years older than Jamie, she appears much more mature. A child of group therapy, she longs to be a woman, free of the pressures placed on her by a difficult mother. Julie teaches Jamie how to act cool around girls, and explains why she's had sex with lots of guys, even though it's not always enjoyable. For her, sex and love don't necessarily go to together. Abbie, a photographer in her mid-twenties, is coming to terms with having cervical cancer. Deeply thoughtful, she teaches Jamie about feminism, and how to chat with, and pleasure a woman. She also teaches him about punk.
The central figure though, is Dorothea. A free spirit who pores over the stocks every morning, she  has a way of squinting and looking at people intensely, as if she's trying to figure out if what people are saying is what they really mean. At the same time, she never dates a man too long, as if she doesn't want anyone to really get to know her. It's Dorothea's narration that gives us an ending before 20th Century Women is complete.
Through Jamie and his adventures with these women, we get a glimpse of what it is to be a modern man, and by extension, some of the challenges that face the modern woman. Whether it's Abbie's response to her health issues, Julie to a pregnancy scare, or Dorothea's fear of redundancy, the film does a good job of exploring life's ups and downs in a humorous but realistic manner.
While all three women turn in strong performances, it's Annette Bening who truly dazzles. Shrewd and intelligent with a touch of vulnerability, this is Bening's finest work in years. Her performance never loses it's realistic tone. Billy Crudup, Great Gerwig, Elle Fanning, and newcomer Lucas Jade Zumann all turn in fine work, but 20th Century Women is undoubtedly Bening's film.
Presented in the 2.00:1 aspect ratio, Lionsgate has provided a solid transfer. The image appears sharp, and allows for a nice level of detail. Dorothea's ramshackle home comes through nicely, picking up even slight details in faraway shots. Every wrinkle and strand of hair is also accounted for.  Depth is above average, as movement looks very fluid throughout. Black levels look appropriate to the film. Colors are beautifully represented, and are appropriately vibrant. Skin tones appear natural. There is no noise or artifacts to speak of.
The 5.1 DTS-HD MA soundtrack works well for this dialogue driven film. The music is mixed very well, providing an almost soothing presence, very it Black Flag or Talking Heads. Music, dialogue, and ambient sounds never crowd each other, even in the loud nightclub scene. Surround sound is natural, without ever feeling overpowering. Most importantly, dialogue is clean, clear and concise.
English SDH, and Spanish subtitles are included.
The following extras are available:
Audio Commentary with Writer / Director Mike Mills: In this running, screen-specific commentary, Mills discusses the story, characters, biographical elements, cast, performances, locations, sets, music, cinematography, period details, and more.
Making 20th Century Women (HD, 9:31) Comments from Mike Mills, producer Youree Henley, production designer Chris Jones, costume designer Jennifer Johnson, cinematographer Sean Porter, and actors Annette Bening, Lucas Jade Zumann, Greta Gerwig, Elle Fanning, and Billy Crudup about characters, period details, costumes, performances, production design, and more.
20th Century Cast (HD, 10:49) Mike Mills, Annette Bening, Greta Gerwig, Elle Fanning, and Billy Crudup discuss performances and their fellow cast members.
Digital HD.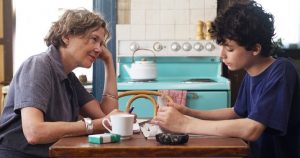 Movie title: 20th Century Women (2016)
Director(s): Mike Mills
Actor(s): Annette Bening, Elle Fanning, Greta Gerwig , Billy Crudup, Lucas Jade Zumann Alia Shawkat
Genre: Comedy , Drama
Movie

Video

Audio

Extras