[amazon_link asins='B071VSDK7R' template='ProductAd' store='moviegazett03-20′ marketplace='US' link_id='85a80662-9197-11e7-8fca-51a6f4d26166′]As the first decade of the 2000's came to a close, Matthew McConaughey's career was in a bit of a rut. He had made a couple of largely forgettable comedies, Fool's Gold, and Surfer, Dude. While 2009's Ghosts of Girlfriend's Past had been a minor hit at the box office, it hadn't generated a lot of positive critical response. Perhaps in a bid to recapture some of the acclaim he received for his breakout role in A Time To Kill, he starred in The Lincoln Lawyer a legal thriller based on the novel by the same name by Michael Connelly.
While the story doesn't quite have the gravitas of John Grisham's work in the 1990's, The Lincoln Lawyer is a solid brain teaser with some genuinely tense moments. McConaughey plays Mickey Haller, a money hungry Los Angeles defense attorney who operates largely out of his chauffeured Lincoln Town Car. He specializes in getting his clients acquitted, and doing whatever it takes to make that happen. His latest case, representing Louis Roulet (Ryan Phillippe, Stop-Loss), the wealthy son of real estate developer Mary Windsor (Frances Fisher) looks to be a big payday. Accused of brutally beating a prostitute, Louis claims he's being framed.
To say much more about the plot would be to give away potential spoilers to those who haven't seen the film yet. Though I will say there's some genuinely surprising twists along the way. Matthew McConaughey isn't stretched too far here as the ethically challenged litigator, but he does show flashes of the brilliance that would become fully apparent in his Oscar winning performance as Ron Woodroof in The Dallas Buyers Club.
The cast is filled out with a solid slate of supporting players. The always underrated Michael Peña (Chips) is a standout as a former client of Haller's who was wrongly imprisoned. William H. Macy turns up as a slimy, but resourceful investigator. Bryan Cranston (Trumbo) is a detective given little to do except look tough, as does the fine character actor Shea Willingham (Cop Car).
Not everything fits together in The Lincoln Lawyer. While certain plot machinations make for an interesting legal dilemma for Haller and his case, director Brad Furman (Runner Runner) and screenwriter John Romano don't provide a motivation for the crime at the heart of the story. As such, as the credits role, everything you've just seen feels more hypothetical than real. However, since this story is fiction to begin with, that's acceptable, if slightly problematic.
Presented in the 2.35:1 aspect ratio, this 4K presentation offers a nice improvement over the standard Blu-ray. While it's not a massive difference, image, detail, and depth are given a nice uptick. Blacks are richer, and deep. No crushing is in evidence. Colors appear natural, bright, and bold throughout. Flesh tones look natural, and facial details are evident throughout the presentation. Noise and artifacts aren't a problem.
The Dolby Atmos track seems like a bit of overkill for such a dialogue heavy film, but I digress. The track is clear as a bell, so that's a great thing. Effects have been given more space, and the mix is generally more balanced. Sounds travel with good accuracy, and ambient sounds are easy evident. Dialogue is clean, clear, and concise throughout.
English, English SDH, and Spanish subtitles are included.
The following extras are once again available on the included Blu-ray:
Making the Case: Creating The Lincoln Lawyer (HD, 13:40)
Michael Connelly: At Home on the Road (HD, 10:16)
One on One with McConaughey and Connelly (HD, 5:28)
Deleted Scenes (HD, 4:07)
Ultraviolet Digital Copy.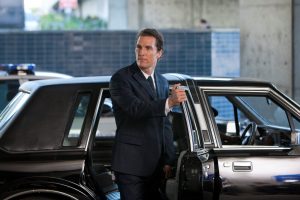 Movie title: The Lincoln Lawyer (2011)
Director(s): Brad Furman
Actor(s): Matthew McConaughey , Marisa Tomei , Ryan Phillippe , Josh Lucas , John Leguizamo Michael Peña
Genre: Crime, Thriller, Drama, Psychological Thriller
Movie

Video

Audio

Extras